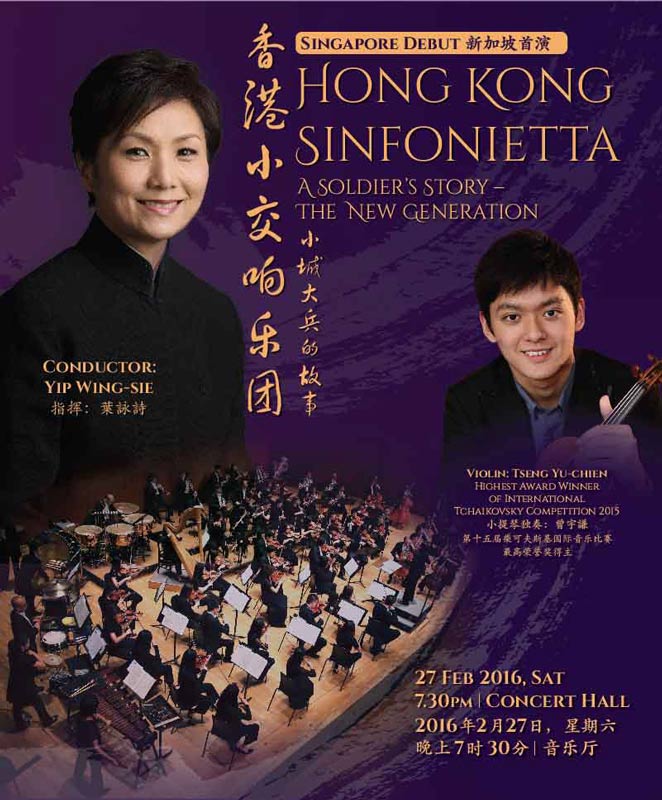 Hong Kong Sinfonietta
Stravinsky – The Soldier's Tale
An ageless tale of temptation, greed and hopeful redemption that resonates through time.
One of Hong Kong's flagship orchestras, Hong Kong Sinfonietta presents a unique version of Stravinsky's The Soldier's Tale, specially reconceived and re-enacted as a "concert drama", featuring young violinist Tseng Yu-chien, winner of the highest awarded prize in the International Tchaikovsky Competition 2015, and acclaimed dance artist Chen Wu-kang.
The drama unfolds from the first act as Tseng's virtuosity on Bach's Chaconne for Solo Violin attracts the attention of the devil, portrayed by Chen. He then gains fame and recognition over the course of Tchaikovsky's Violin Concerto in D, Op 35, accompanied by the Hong Kong Sinfonietta. An introspective second half of the evening sees the orchestra and dance artists relating a cautionary tale of the soldier/violinist who sacrifices his soul to the devil in exchange for fame, wealth and glory.
A Soldier's Story – The New Generation is a production conceived in collaboration by Hong Kong Sinfonietta Music Director and Conductor Yip Wing-sie and choreographer Yuri Ng, with help from dance artists CHEN Wu-kang, Jay Jen Loo, Abby Chan and Hikaru Tsutagawa, and featuring a Mandarin libretto translated by Michael Lam.
The performance by Hong Kong Sinfonietta is financially supported by the Hong Kong Economic and Trade Office in Singapore, Government of the Hong Kong Special Administrative Region.
Date: 2016/2/20
Time: 8PM
Venue: Concert Hall, Hong Kong City Hall
Date: 2016/2/27
Time: 7:30PM
Venue: Esplanade Concert Hall, Singapore