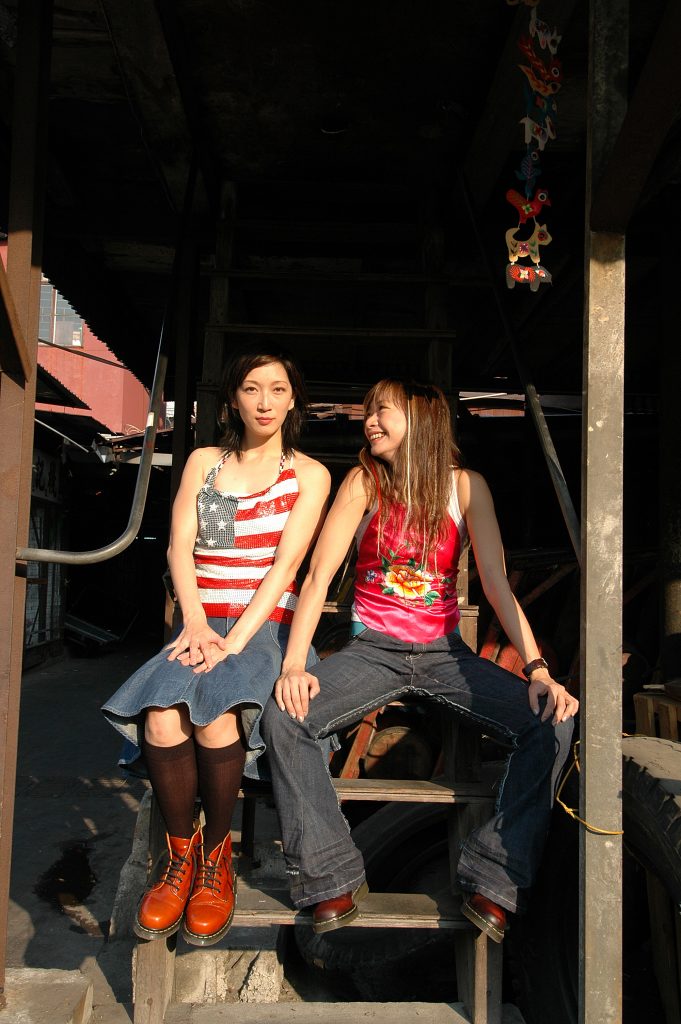 "The material may sound familiar, but how it was depicted and spoofed never felt mundane"

by Malcolm Tay
Production – Love in a Doggy Bag
Company – McMuiMui Dansemble
Reviewer – Malcolm Tay
Date – 16/02/2005
Place – The Esplanade Theatre Studio
While watching Love in a Doggy Bag, I was mentally kicking myself, again and again, for not having a better grasp of Cantonese. I should have paid attention to those old television serials that my mother used to rent. Had I been more observant at the time, I would have been better equipped to enjoy this 90-minute offering by Hong Kong's McMuiMui Dansemble. As it is, the show was still a hoot.
Much of its appeal, I think, stems from its deeply nostalgic story about two girls growing up in Hong Kong (the girls are played by McMuiMui founders Abby Chan and Yeung Wai-mei, who also choreographed the piece) and their shifting notions of home and identity. (This was Chan and Yeung's way of understanding their yearning for Hong Kong after leaving for the United States in the 1990s.) The material may sound familiar, but how it was depicted and spoofed never felt mundane.
Love unfolds over 18 episodes – each episode plays on "jia", the Chinese word for "family" – though keeping track of the line-up of episodes didn't matter after a while. The setting for the duo's display of quiet domesticity and comic horseplay is a lived-in abode with multipurpose furniture and a metal front gate near the theatre's entrance, through which an usher made me pass before I took my seat. As it happens, Chan and Yeung were raised in the city's public flats during the 1980s, which all have this sort of folding gate.
Both performers are graduates of The Hong Kong Academy for Performing Arts and their performance styles complemented each other: Chan was a stable, nurturing foil for Yeung's impetuous passions. They had a kind of chemistry that perhaps only exists between old friends. You could see it when they danced together, deadpanned in perfect timing, or gaggled in a stew of English, Mandarin, and Cantonese. After all, Love was inspired by their own lives, so that personal connection between them, conveyed through the dance, was palpable throughout the evening.
The rough-cut choreography was more concerned with characterisation and mood than with academic precision, which agreed with Love's rojak nature. Towards the end, a roving duet between the two girls – an ever-changing dialogue of wills and household objects, smacking of contact improvisation – aptly visualised their volatile relationship. At other times, they hustled and adjusted themselves to the music.
And what fitting music they chose. With Lau Tin-ming's help, Chan and Yeung hit all the right spots with a winning soundtrack of classic tunes. The great songstress Yao Li's 1940s Mandarin pop hit, Rose, Rose, I Love You, shared airtime with Frankie Laine's lame English cover from the 1950s, along with Cantopop songs by Roman Tam and Nancy Sit. When TV soap opera theme songs accompanied a dinnertime send-up, we roared in recognition – it was that funny.
Lee Chi-wai's set and props also did a fabulous job of evoking scenes from the characters' memories. When stacked in columns, storage boxes turned into shelves, a stereo and a TV set. In near darkness, an upturned table lined with small candles became an open window from which to look out during a blackout – a respite from the humid chaos. Apparently, blackouts were common in Hong Kong's public housing – and we haven't forgotten last year's island-wide incident either.
Indeed, Love used many props quirkily and effectively, but the significance of some items just failed to register in my mind. Take the stuffed pigs, for instance. They were damn cute but I wondered if they had any link with Love's Chinese title, which literally means "The Story of Finding the Family Pig". Or perhaps "pig" was someone's childhood nickname. Maybe I missed a clue that was uttered in Cantonese, but it seemed as though some things were privately important to the dancers and were just beyond our grasp.
Still, I can't wait for the McMuiMui girls to return to Singapore. Their work remains refreshingly honest and heartfelt, even when it gets unwieldy at times. If I ever watch them again, I'll make sure my Cantonese is up to scratch.