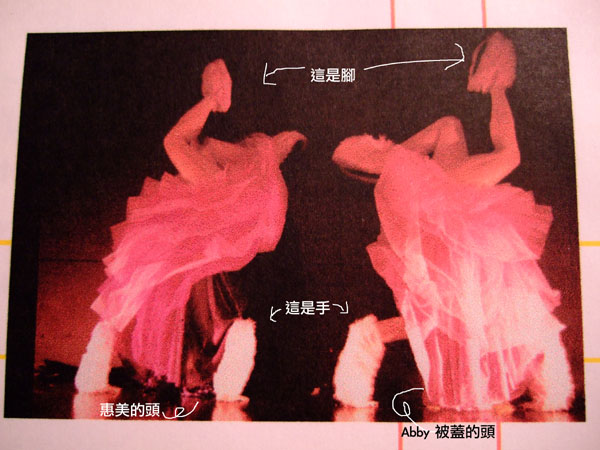 South China Morning Post
Fringe Club, Central
Simon Wu
Something Strange In The Air, the literal translation in Cantonese being "craziness in the wind", is a multi-media dance theatre piece performed by the McMuiMui Dansemble, a local dance company formed by Abby Chan and yeung Wai-mei.
"Craziness" – or the Cantonese homonym of " craziness" – was used as a frame work for a montage of scenes about contemporary Hong Kong.
The performance began with Chan and Yeung hosting a charity show, caricaturing well known Hong Kong personalities.
With long pink and purple wigs , Chan and Yeung danced holding hairdryers that hung from the ceiling.
Their lyrics covered government intervention in the stock market, health scares, the Snoopy fad, mainland mistresses, mass sackings and a panoramic view of newspaper headlines from the past few months.
Then came a blackout. They panicked, they complained and they bitched about each other. Both dancers were expressive and performed with great commitment.
The second of the two main pieces portrayed how insatiable materialism can drive people insane.
The performance was full of innovative concepts, seasoned with wit, camp humor, sarcasm and, above all, craziness.
Scenes included Chan being bombarded by brand labels projected on to her body, Chan and Yeung dancing in a handstand position with their feet in fluffy shoes and a doll stripped naked by electric fans.
This continued with empty political slogans being juxtaposed with the vacuous ambitions of beauty queens and a home music video.
Then the audience was asked to participate in a lesson in which we were taught both the Chinese characters for "forgetful" and "busy" were made up of two words – " heart" and " dead". The message is when our spirituality dies, what we can do is to keep ourselves busy and forget what is important.
Two robotic security guards, brilliantly acted by Michael Wong and Paul Lam, provided a poignant contrast to the expressive women.
Scene changes were a bit abrupt, more like a variety show than a coherent piece. But McMuiMui was fun and popular with the audience – being self-confessed crazy it was beyond logic anyway.