Shanghai Expo – Hong Kong Week Closing Performance
Hong Kong Sinfonietta: A Soldier's Story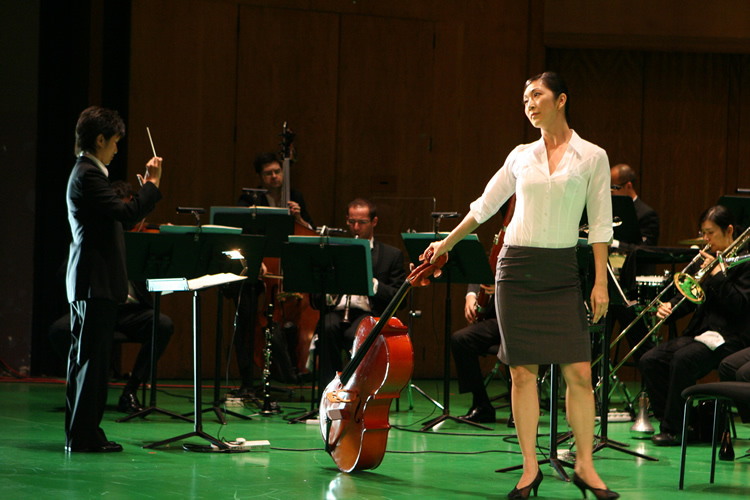 In Hong Kong & Shanghai, Oct 2010
A collaboration of MUSIC, DANCE, and NARRATION
In this crossover production, Hong Kong Sinfonietta, Music Director Yip Wing-sie and renowned choreographer Yuri Ng recreate the Faustian dark tale of the soldier who traded his violin for a book of fortune.  Four leading Asian dance artists: Huang Lei, Shirai Tsuyosho, Jay Jen Loo and Abby Chan will dance to Stravinsky's witty, highly infectious and intricately written work, The Soldier's Tale, played by an ensemble of seven musicians.  Actor Chu Pak-him, narrating a Chinese text adapted by writer Michael Lam, will portray the devil as well as a merciless commentator.
To complete the programme, the orchestra will play two other musical gems by Stravinsky aptly chosen for the context.  The neo-classical work Jeu de Cartes (The Card Game), originally written for a Balanchine ballet, may be recalled during the twists and turns in The Soldier's Tale, when the soldier became remorseful of his pact with the devil and challenged the devil to a card game, hoping to restore his original life by losing everything he greedily acquired with the devil's power.  The other work, Three Pieces for Clarinet Solo, was written by the composer in gratitude to the sponsor of The Soldier's Tale during the First World War, the piece will be performed by Principal Clarinet Fong Hiu-kai, Johnny.
Apart from the Hong Kong performance on 15 Oct, this exciting production will also be the closing performance of the Hong Kong Week at the Shanghai World Expo, being also a programme of the China Shanghai International Arts Festival.
In HONG KONG
15.10.2010  (Fri) 8:00pm
Hong Kong Jockey Club Amphitheatre, Hong Kong Academy for Performing Arts
Tickets: $280, $160, $100
At EXPO SHANGHAI
22.10.2010  (Fri) 7:30pm
Shanghai Oriental Art Center Oriental Concert Hall
Tickets: RMB 580 (VIP), 380, 280, 180, 100
For photos, please download from HERE or contact Ms Amanda Mok.
A HKSAR Programme for Expo 2010 Shanghai – Hong Kong Week Closing Programme
Hong Kong Sinfonietta:
A Soldier's Story
Music Director/Conductor: Yip Wing-sie
Director/Choreographer: Yuri Ng
Narrator: Chu Pak-him
Dance Artists: Huang Lei*, Shirai Tsuyoshi, Jay Jen Loo, and Abby Chan
Clarinet: Fong Hiu-kai Johnny
Adaptation: Michael Lam
*Allowed to perform by the Hong Kong Dance Company
Programme
Stravinsky      Three Pieces for Clarinet Solo
Stravinsky      Jeu de Cartes
Stravinsky      The Soldier's Tale
Link: http://www.hkexpo2010.gov.hk/tc/whats/upcoming_new_detail_hksinfonietta_20101022.html